Once your order is placed, you can expect it to be delivered to your door within 3-4 business days.
Our store is powered by Shopify and is 100% PCI compliant so you can rest assured that your payment info and data is safe.
If for any reason you aren't 100% satisfied with your product purchase you can return it risk free for a full refund within the first 30 days.
Unique Bamboo Exterior: Our High Capacity GRATITUDE Tumblers are made of 100% Organic Bamboo, giving them a unique and stylish look.
Maintains Temperature Like No Other: Our

Insulated

GRATITUDE Water Tumbler utilize the latest Vacuum Insulation Technology to keep coffee, tea and all other beverages piping hot for 8 hours or iced cold for a whole day.
BONUS TEA INFUSER: 1 piece detachable stainless steel tea infuser. Brew your favorite loose leaf tea, use it as a fruit infuser water bottle or even brew herbal beverages!
Non-toxic: No harmful plastic, chemical smells, or toxins used. Each travel mug is tested to the highest standard and are certified both BPA & Lead FREE.
16.9oz Gratitude Bamboo Tumbler
Premium Insulated Bamboo Water Bottle
Gratitude makes sense of our past, brings peace for our today and creates a vision for tomorrow.
Allow this 16.9oz Gratitude Bamboo Tumbler to serve as a simple reminder to slow your breath and take a moment to feel the transformational power of gratitude. When we can see the world through grateful eyes everything becomes a gift.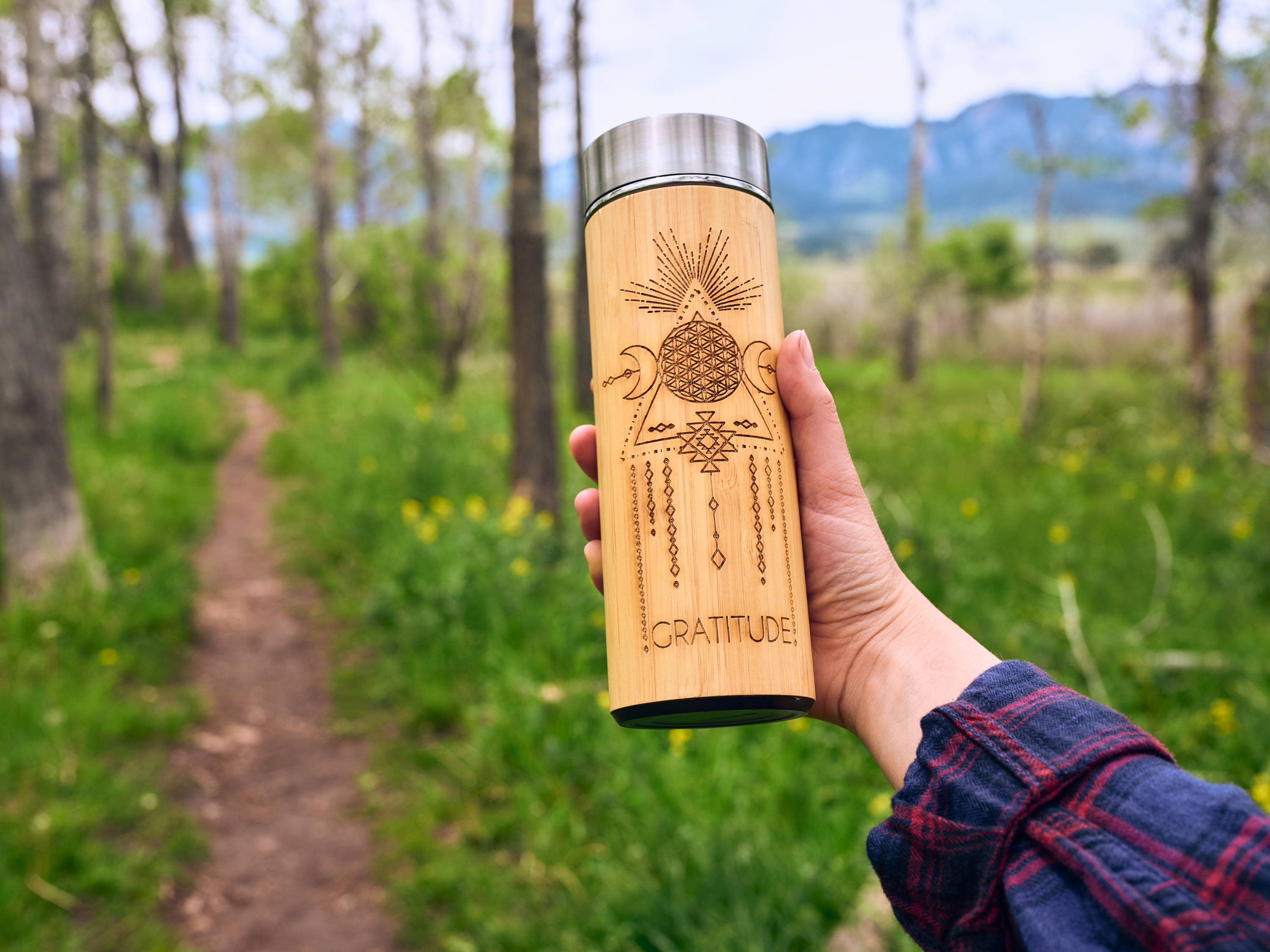 The More You Bundle, The More You Save!
Bhavana Bottle makes a great gift for every occasion and is sure to spread a smile :)
I bought my first Bhavana Bottle; and absolutely loved it. If you like tea (or any hot beverage really), you'll find this super convenient. You merely place the desired tea into the steeping basket then place the closed steeping basket into the bottle. Pour pre-heated water over/into the basket and tea! I estimate it as about three servings of tea. Very easy with no mess. I gifted one to my daughter, who's one month critique duplicates my own. Oh, also very aesthetically pleasing. Namaste!
Kenneth L. Sandridge
2 APR 2020, 12:21
I love everything about Bhavana Bottle!!! The story, the mission and the beautiful bottles that I use for everything!!! I love making my morning tea with it and it really keeps it hot ALL day!! I get so many compliments and purchased others for friends as gifts :)
Jenny Raley
15 MAR 2020, 14:42
The cutout design for the PEACE bottle is absolutely beautiful. It makes you feel great just by looking at the bottle. I keep it on my desk at work, and It really does remind me to remain calm! These unique bottles make a great gift. I gave one to a family member for Christmas, and she was just in awe when she took it out of the packaging (which is also beautiful). Shipping was lightening fast! I plan on purchasing more of these bottles in the future.
Patricia Watson
24 MAR 2020, 14:42